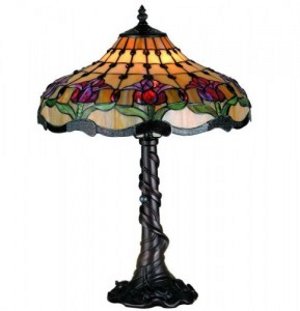 Your investment in a Tiffany Lamp goes beyond the initial purchase. Once you have it home and in the perfect place you need to maintain it. Cleaning a Tiffany Lamp requires an attention to detail and some patience. The time and effort involved in cleaning it pays off in spades as the light, colors and beauty of the lamp is able to shine.
Most Tiffany Lamps are intricately detailed with many small panels and solder that will catch and hold dust and grime. Dusting the lamp often can help prevent buildup and save you time in the long run. What do you normally use to dust? Go with that first to keep the lamp dust free. If dust has built up then use a vacuum with brush attachment, this can help dislodge some of the dust without rubbing it into any cracks or crevices in the lamp.
When your lamp needs more than dusting it's time to unplug the lamp and get ready to do some cleaning. Tiffany Lamps and Tiffany Style Lamps are made of a variety of materials and they have different cleaning considerations. If your lamp is made of art glass, jadestone or opaque stained glass use a soft cloth with a lemon oil based cleaner or furniture polish and wipe the surfaces gently. This method also works on most of the metal lamp bases as well as fixture frames.
For lamp shades of transparent or beveled glass you can use water or a standard household glass cleaner. With Lithophane porcelain lamps use warm soapy water using a mild detergent or soap. On non-colored areas that have hard to clean stains you may use a scouring powder. Use the dusting methods or a soft damp cloth for cleaning lamp shades that are made of fabric or mica. On lamps or fixtures in areas that will collect grease, such as the kitchen, some recommend Mr. Clean Top Job®. After cleaning with Mr. Clean be sure to reapply any lemon oil as required.
In general it is best to stay away from aggressive, corrosive or abrasive cleaners as this can damage the glass and solder. Watch out for products with ammonia as it can cause the solder to oxidize. If you have a lamp with oxidized solder then use a light coating of lemon oil to clean it and help prevent future tarnishing and oxidization.